On April 15, 2022, the131st Canton Fair was grandly opened online! AoGrand group, as an exhibitor ofthe daily chemical industry, welcomes all exhibitors and customers with a brandnew look of youth, innovation and digital intelligence!
Make friends around the world with mutual benefit
Founded in the spring of 1957, the Canton Fair is thelongest and largest comprehensive international trade conference in China. Itis also a Navigator of China's foreign trade. Affected by the epidemic, thisCanton Fair is still held online this year. The event will last for 10 daysuntil April 24.
The theme of this Canton Fair is double cycle of Chinadomestic and international. The exhibition content includes three parts: onlineexhibition platform, supply and purchasing service and cross border e-commerce.Set up columns on the official website, such as product release, Exhibitors onLive, VR Exhibition Hall, Fair in the News, etc. 50 exhibition areas are set upaccording to 16 categories, with more than 25000 exhibitors attended.
As National,Be International
AoGrand Group, located in Nanjing—— the central cityof China's developed Yangtze River Delta, has a history of nearly 30 years. whichis a comprehensive, digital and intelligent daily chemical group enterpriseintegrating "production, learning, and research".While continuing togo deep into the international market, the Group actively explores the domesticmarket, provides better services, and constructs a new development pattern ofdomestic and international double circulation and mutual promotion.
As a national enterprise in theinternational market, AoGrand Group Brings hot selling brands to the CantonFair such as CLEACE、JOBY、BUBU BEAR、MYSTIC、ARROW、SOFREE、UNICO、GREAT WRITER、SHINEJUNE、SOGIN. etc., covering epidemic prevention and disinfection, homecleaning, mother and baby products, sanitary products, pet products, personalwashing, oral cleaning, beauty makeup and many other categories. With highquality, and cost-effective products, AoGrand's products are popular even onthe first day.
VR Exhibition and Distant Connection
After several years of accumulation, AoGrand group'sonline exhibition is becoming better. The "1 + N" multi space livebroadcasting room adopts various live broadcasting forms such as real scene,video, graphics and text, and customized live broadcasting schemes for domesticand foreign markets... Exhibitors from all over the world can also use the"VR Booth" to truly break through the space-time constraints andefficiently connect the world!
The "instant communication" function isadded in this Canton Fair. Exhibitors can view the information and sendbusiness cards and initiate communication at anytime with favorite products inthe live broadcasting room, Making the online business and business more smooth.
At the same time, the "cloud live broadcast"of the Canton Fair of AoGrand group is broadcast simultaneously on AoGrand InternationalVideo number and Youtube; AoGrand group's official website (website: aogrand.com/Cantonfair)will answer questions and inquiries from customers all over the world 24 hoursa day.
Shining Global Bright products
"New product launch" has been addedfor the first time, AoGrand's CLEACE new products such as fragrancedisinfection, surgical hand washing, Unico pet special shower gel, petsterilization and dry shampoo, JOBY hand washing tablets, Bububear diapers are launched. Withhigh quality products and exquisite appearance, AoGrand's new products haveattracted customers from all over the world to watch.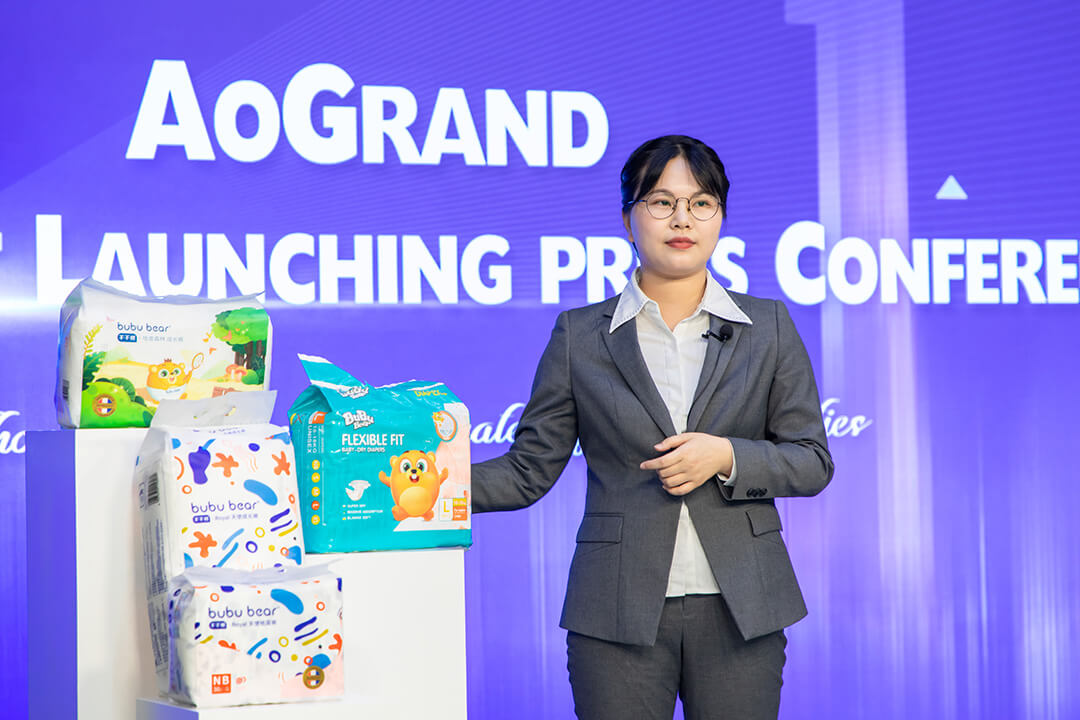 For epidemicprevention and control CLEACE brand of AoGrand group has launched manyprofessional protective packages such as Quaternary ammonium salt disinfectant,75% water free hand washing liquid, disinfecting wipes and 3D KN95 mask. We try our best to ensure thesupply of materials as a national key epidemic prevention material productionenterprise.
April 15 - April 24
Aoguang "exhibition hall" is broadcast all day!
Waiting for you
-Scan the code to enter the "Exhibition Hall"-
In this Canton Fair, AoGrand group's globalinvestment promotion has also been launched. Become a brand partner of AoGrandgroup, you will get the following rights and interests:
1. 7*24h, exclusive online customer service team with over hundreds of people;
2. Freight subsidy, warehousing andlogistics support;
3. Flexible and controllable delivery date,assist in clearing obsolete inventory;
4. "Sea, land and air" marketingsupport - 1v1 business and marketing manager Assistance; Promote materialcustomization support; Digital intelligent new media platform launch.
More value-added rights and interests continue to beadded. You can learn more about brand partner policies and product informationby watching the "Exhibition Hall" of AoGrand group in this CantonFair in time.
AoGrand Group, a new force in the global dailychemical industry, provides you with one-stop product service solutions!