Striving to be the leader of "Online Foreign Trade"! The 129th Canton Fair of AoGrand Group has been crowned with success!
Company News
2021-04-25
133
On April 24, it's the last day of the 129th Online Canton Fair. The ten-day live stream of AoGrand Group has been crowned with success!
At this "Online" Canton Fair, AoGrand Group, as a new force in the global daily chemical industry, displayed its nine international brands such as CLEACE, JOBY, BUBU BEAR, MYSTIC ORCHARD, ARROW, SUNING, and SOFREE, as well as over 100 star products from dozens of popular categories such as household cleaning, prevention and disinfection, mosquito and insect repellents, maternal and child products, air fresheners, etc.
During the 10-day exhibition, the "Live Exhibition Hall" of AoGrand Group broke through the limitations of time and space. The online exhibition hall enhanced the real interactive experience with the help of real-time streaming, video, graphics and VR exhibition hall, and fully demonstrated the product features and corporate strength. With nearly a hundred live streams, 100+ international foreign trade anchors of AoGrand Group took turns to attract domestic and foreign merchants to "surf" our online exhibition. A large number of interested merchants visited our "Live Exhibition Hall", and the number of online orders has greatly increased!
Showcasing Internationalization of AoGrand Group
In order to be more in line with the positioning of international exhibition, AoGrand Group provided personalized live stream solutions for different markets, dividing one day into six global live stream periods, and seamlessly connecting with global merchants. Our excellent foreign trade anchors can introduce our quality products in English, Spanish, and German freely. The "Live Exhibition Hall" of AoGrand Group has attracted the eager attention of many foreign merchants, and showed the international style of AoGrand Group!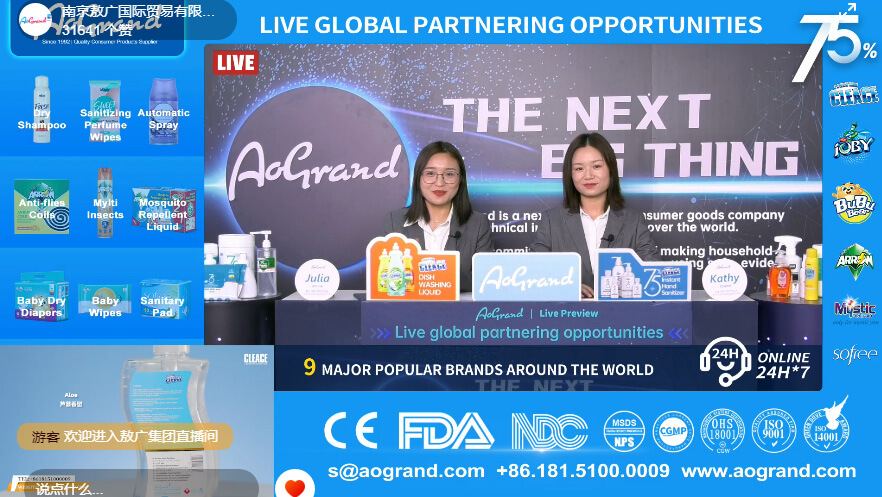 At the same time, merchants from all over the world could watch the live stream simultaneously through the official website of the Canton Fair, the official website of AoGrand Group (aogrand.com/cantonfair), and platforms such as YouTube and Facebook. AoGrand Group provided comprehensive answers to questions and inquiries from global merchants.
Relying on the "Online" platform that has broke through the limitations of time and space, AoGrand Group actively developed trade cooperation with overseas companies to broaden new paths for international trade development, build a new pattern of international development, and accelerate the pace of AoGrand Group's internationalization!
Facilitating digital transformation
Live streaming is gradually becoming a new trend in the foreign trade industry. Only by actively exploring can we have the opportunity to lead our company to break through online. The holding of the "Online" Canton Fair will empower digital transformation of AoGrand Group in a timely manner.
After the online deployments of three Online Canton Fair, AoGrand Group has further accelerated the pace of digital transformation. Through "live stream", it accurately matched customer needs, provided customers with customized services, and successfully carried out product online promotion and online order signing. And through the online empowerment of offline business and offline service of online business, AoGrand Group has established an integrated service system, and strives to build a comprehensive service platform in the daily chemical industry.
Review · Summary · Outlook
AoGrand Group has paved the way of development with little stars and stepped steadily from the boundless. When the online Canton Fair came to an end, the 129th Canton Fair of AoGrand Group crowned with success.
At the meeting, the managers and directors of each department summarized the work of this Canton Fair.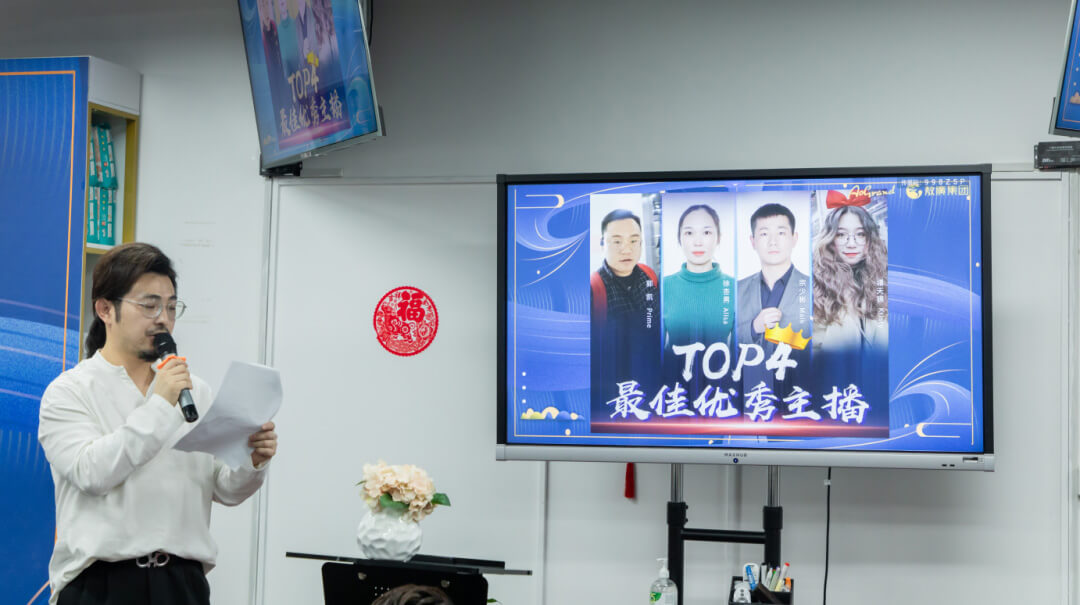 Mr. Shi Feiping, President of AoGrand Group, affirmed the future development of online foreign trade, and said that AoGrand Group would unswervingly follow the track of "online foreign trade", continuously explore the development path of "online foreign trade", and strive to be the leader of "online foreign trade" industry by using professional live streams, innovative forms, and constant thinking!
| Mr. Shi Feiping, President of AoGrand Group, delivered a keynote speech
The future is here. Only companies that keep up with the pace of development of the times can always maintain fresh vitality and development potential. AoGrand Group will continue to move forward under the development tenet of "newer, faster, and more wild"!