During the 2019-nCoV, global trade has been wounded . The global trade industry has suffered a devastating at the beginning of the year . At the same time, the demand for Chinese epidemic-prevention material has grown tremendously from foreign countries.
However, in the early stage of the outbreak, epidemic prevention materials once went to short supply. The safety of Chinese people and control of the epidemic was seriously affected. In order to improve our country's health emergency response capabilities, on July 15th, Shanghai International Epidemic-Prevention Material and Suppliers Exhibition 2020(PME2020) was held at the National Exhibition and Convention Center.
This exhibition is the second international anti-epidemic materials exhibition in the country after Canton Fair. It is also another professional, credible and high-level exhibition. The exhibition solved the problem of the imbalance between supply and demand, also helped companies to reconnect with international companies all around the world.

Jiangsu AoGrand Group Inc. has nearly 20 years experiences engaged in the research, development, sales and service of hygiene and Skincare products for health care industry and consumer use. As a key company to product epidemic prevention materials,AoGrand Group has been recommended by the organizer, and has the honor to participate in this exhibition.
As a professional manufacturer of personal care chemical products, Aogrand Group covers many categories such as hand sanitizer, disinfectant spray, detergent, mosquito coil, washing powder,etc.
As a newborn star of all series of Product, CLEACE 75% alcohol hand sanitizer made its moment. 75% alcohol formula, natural plant extracts, quick-drying technology, complete specifications, convenient and quick to use. It has been sold to more than 150 countries and regions.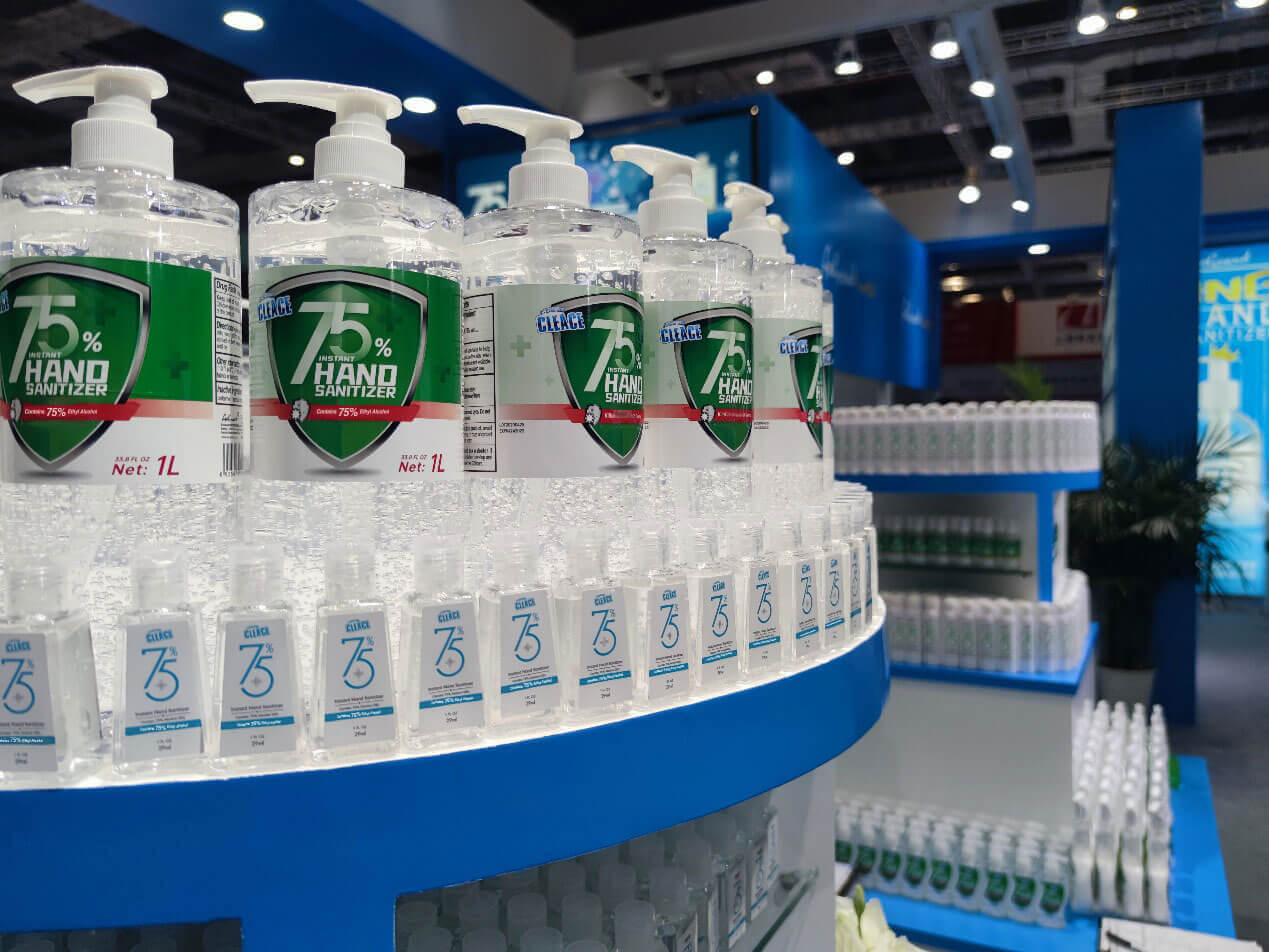 July 15,2020, the PME, 2020 was grandly opened in Hall 5. 1 of NECC (Shanghai). At the first day of the exhibition it was almost more than 10,000 visitors attended. Because of AoGrand Group exquisite booth and high-quality products, plenty of domestic and foreign customers stopped and attracted. Hostess from AoGrand Brand Center explained for the audience about our high-quality products with professional skill.
From Kazakhstan, Austria, South Korea, Finland, Turkey, Iran, Egypt, Colombia, Thailand, Mexico, France, Australia, Canada, Nepal consulates in Shanghai, 25 domestic and foreign business associations, 10 Representatives of industry associations came to the booth of Aogrand Group to become the witness of our bright future.
The next day, the PME2020 has closed. Through the exhibition, Aogrand Group has expressed its international image and successfully expanded the brand influence. As a key company of epidemic prevention materials production,Aogrand Group will continue to work hard to provide high-quality alcohol disinfection products to the world! Aogrand Group will continue to achieve a new leap-forward development!